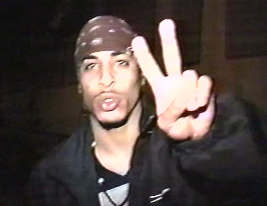 Myzery
Birth Name : Encarnation (first name N/A)
Hair : Black
Eyes : Brown
Height : N/A
Weight : N/A
Date Of Birth : N/A
Aliases : Myzery, Twin Gats, etc...
Position at Psychopathic Records : Currently not employed by Psychopathic Records. Appeared on Dumpin' and released one E.P at Psychopathic Records entitled "Para La Isla".
Psychological Evaluation : Is trying to over come his serila killer style for a New York hip hop sound. But some how ended up in Arizona not rapping on shit. Evidentally not mentally stable.
Wrestling Bio: Partipated in Hell Fire Wrestling.
Best Known For: Touring with ICP. Being on Para La Isla and Dumpin'.